Field-Level Accuracy. Worldwide Scalability.
Quantify, Track, & Improve Your Environmental Impact
You have ambitious sustainability targets to achieve, and need accurate data and insights to help you get there. HabiTerre makes it easy to measure, monitor, report, and verify (MMRV) your ag supply chain's carbon footprint, covering all major sources of GHG emissions related to farm commodity production, to support your goals.
Scope 3 Agriculture Greenhouse Gas Emissions Quantification
Our solution for Scope 3 GHG Emissions Quantification and Accounting goes well beyond our best-in-class Measurement, Monitoring, Reporting, and Verification (MMRV) capabilities. We offer row crop and grazing lands expertise, soil sampling optimization, tools to streamline farm engagement and data gathering, actionable insights for participating farmers, and environmental impact assessments beyond GHG emissions, with years of trusted science to back it up.  
Full Net-GHG Calculation Including SOC, N2O, CH4 at Field-Level
We accurately quantify emissions flux, calculating not only SOC change, but also other environmental impacts such as Nitrous Oxide and Methane emissions and other nutrient loss pathways that impact both production efficiency and water quality at the individual field-level. This holistic process goes above and beyond what soil sampling and other approaches can measure, giving you the necessary data to meet or exceed your goals in ways that go beyond simply tracking soil carbon and emissions.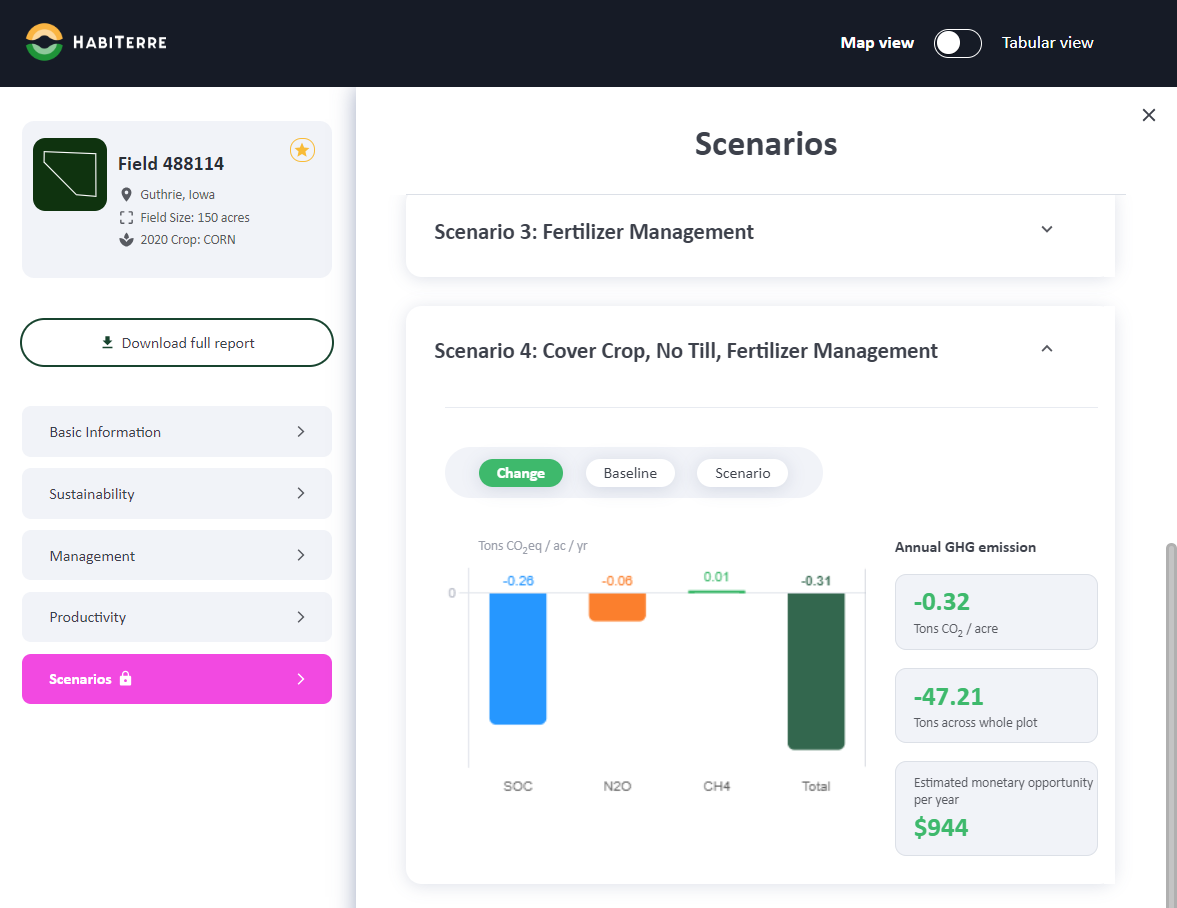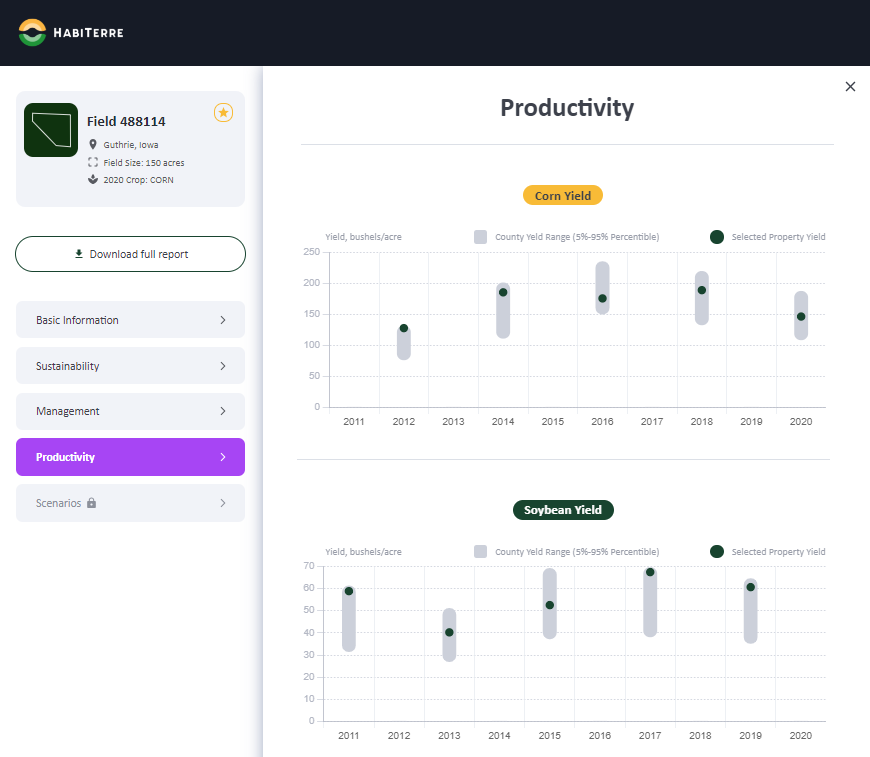 Baseline & Historical Farmland Emissions Calculations​
In order to establish a baseline from which to measure impact, HabiTerre analyzes historic soil, weather, crop, nutrient, yield, and farm management information at the field-level. The accuracy and detail of these historic insights and their associated emissions helps to determine the baseline against which to calculate year-over-year progress.
Monitoring & Verification Of Farm Management Practices​
Monitoring practice improvements such as reduced tillage and the addition of cover crops, as well as associated yield impacts at the field-level is vital to ensure confidence in environmental outcome claims and to optimize program design to maximize impact at scale. 
Our ability to observe field-level practice changes provides cost-effective confidence in claims by providing oversight of reported versus observed practices and targeting fields where physical verification of practices would be most valuable.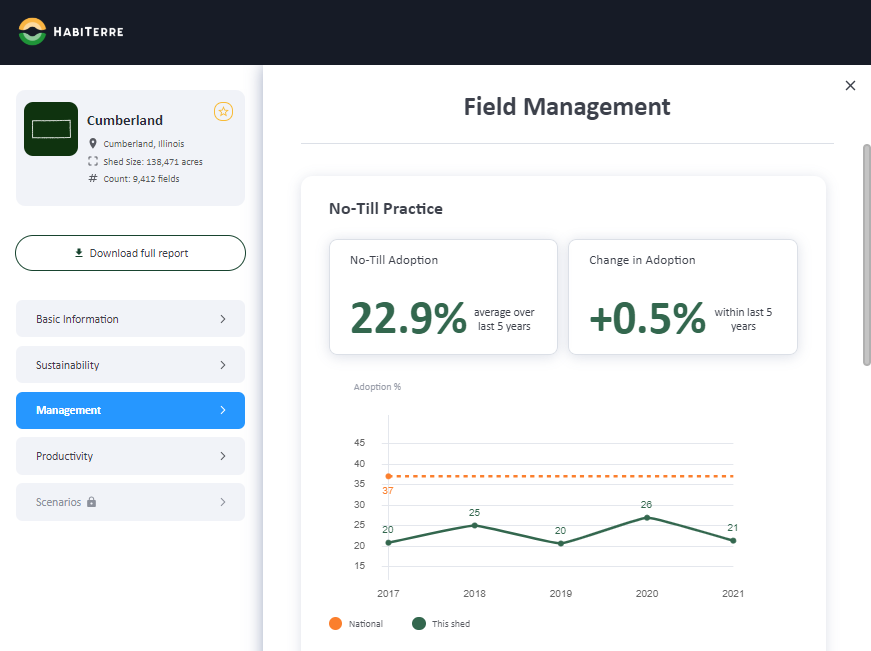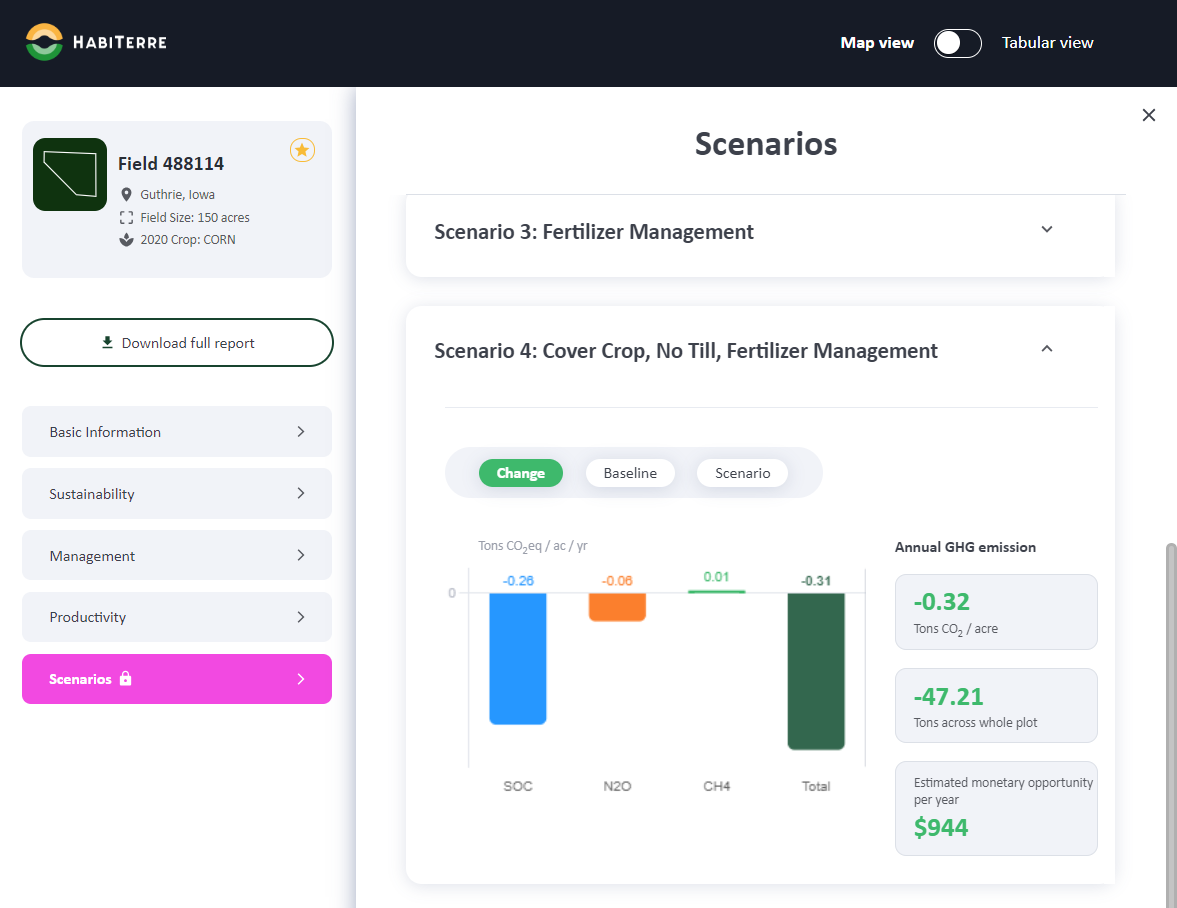 Review forecasted environmental outcomes for practice change scenarios like increased cover crop adoption, reduced tillage, or improved nutrient management at field, project, or supply shed level.
Optimal practices and outcomes vary from field to field and region to region, making the ability to accurately forecast potential outcomes critical to maximizing program impacts and meeting farmers where they are with practices that make sense in their area.
Nutrient Management Insights

Farmer-Facing Platform

Cradle-to-Farm Gate Life Cycle Assessment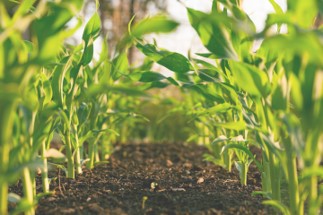 Nutrient Management Insights
Nutrient management is about more than just GHG emissions, it is about optimizing crop production while minimizing all loss pathways that impact both air and water. With HabiTerre's holistic approach to analyzing the entire production system, we are tracking crop nutrient uptake efficiency, losses resulting in nitrous oxide emissions, and losses resulting in leaching and runoff.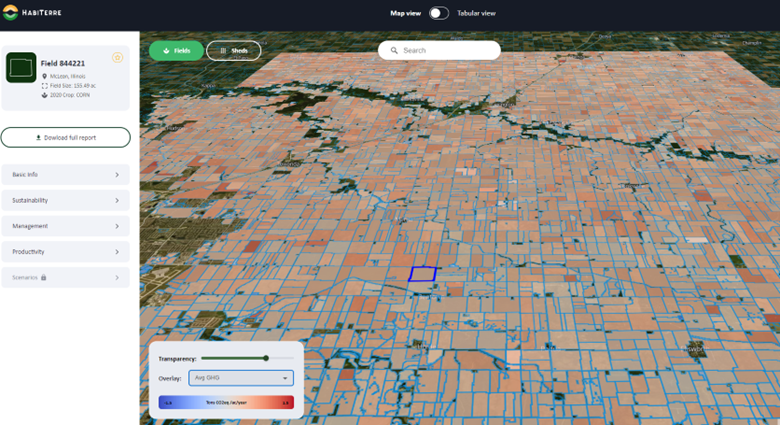 Farmer-Facing Platform
The success of any effort to improve environmental outcomes in agriculture depends on value-added engagement with farmers and their advisors. To minimize barriers to engagement and add value to the farmers we serve, our approach greatly reduces the amount of data required from farmers and provides field-level insights specific to their unique fields and management history.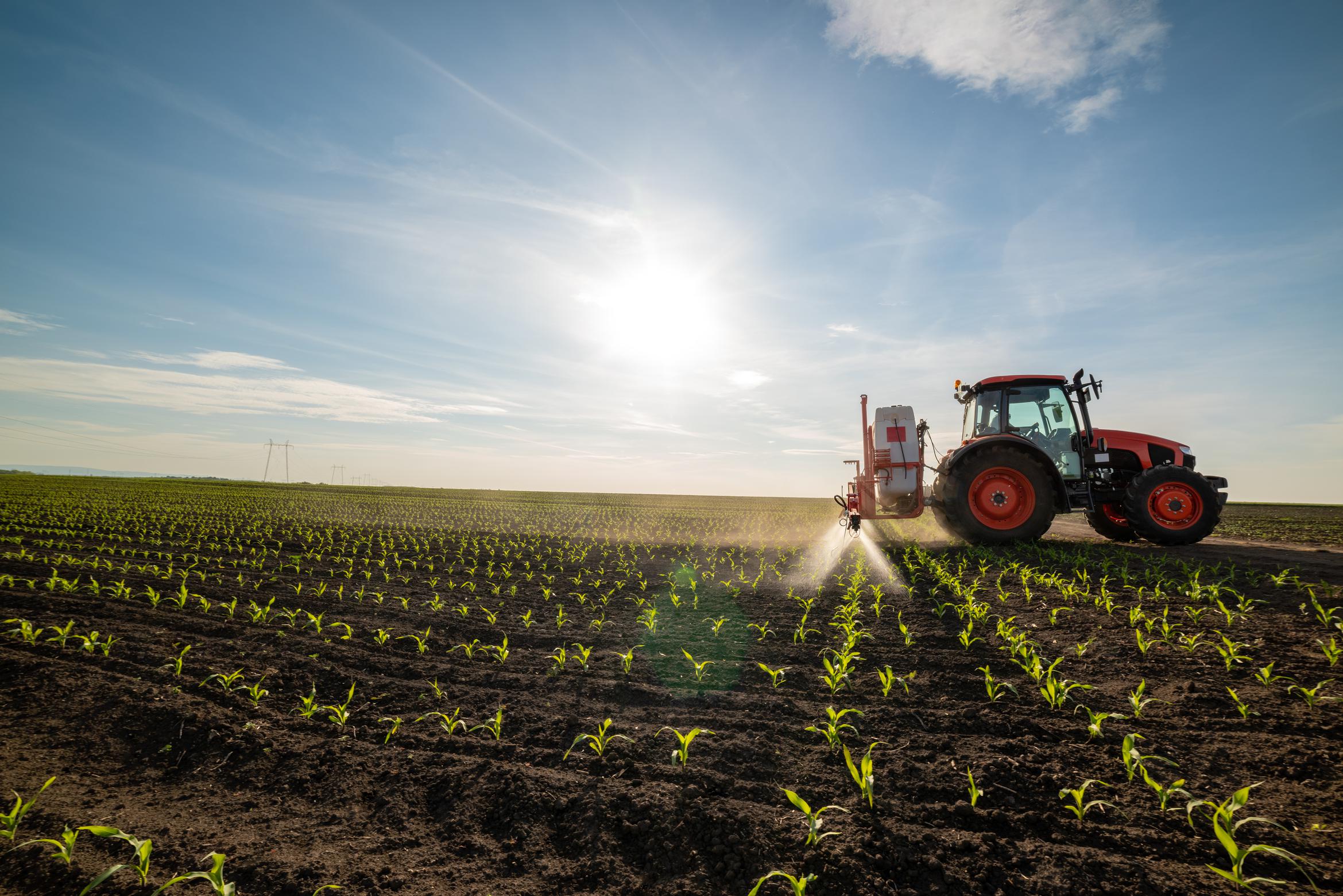 Cradle-to-Farm-Gate Life Cycle Assessment
Improved production efficiency and farm management practices create impacts that go well beyond the farm field. By improving nutrient management or reducing tillage passes over the field, emissions related to fertilizer production and fossil fuel use are also reduced and can be tracked as part of a comprehensive approach to supply chain emissions management.
Most frequently asked questions and answers
Of course! We understand how confusing it can be with constantly changing protocols and recommendations. We listen to understand your specific needs and learn about your unique sustainability goals and needs. Then we help to identify specific problems and solutions, provide accurate data, and empower you to make informed decisions with the largest possible impact .
HabiTerre can integrate with both upstream (farmer-facing) and downstream (CPG or climate advisory-facing) tools and platforms.
Upstream: Import farm management practice data for streamlined farmer reporting and reduced data gathering needs.
Downstream: Export project or field-level management and environmental outcome data for integration with platforms and service providers quantifying other sources of emissions beyond agricultural production.